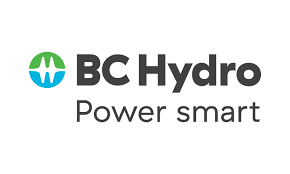 Business energy-saving incentives
Get funding for energy-efficient equipment upgrades
Upgrade any of the energy equipment listed below and we'll provide funding to cover about 25% of the upfront costs (on average) through energy-saving incentives.
Not only do these incentives shorten the payback period of your upfront investment, they make the decision to upgrade easy – helping you to reduce consumption, save on energy costs, and increase your bottom line. Our incentives could help you save over $2,800 per year on your bill.

Choose from three options to get started:
For more information, please contact BC Comfort at 604-439-3344 or service@bccomfort.com to get started.
What is SEM Hub?
The Strategic Energy Management (SEM) Hub is an online self-serve portal for all your incentive applications and energy efficiency projects. In SEM Hub, you can start an online application and access tools to help you strategically manage your energy and reduce your operating costs such as:
Consumption trend history
Energy use intensity
Advanced analytics
Simply register for SEM Hub with your account number or use your Business Energy Savings Incentive (BESI) ID and password if you already have one.
What is Alliance Member?
The Alliance of Energy Professionals is a network of energy efficiency trade professionals registered with BC Hydro. They help businesses:
Identify opportunities to save energy.
Install energy-efficient products.
Look for other BC Hydro incentive opportunities.
If you're considering an upgrade or installation, the Alliance can help you get started. Simply request a referral for a particular job and we'll search the Alliance database to find member firms that are eligible to handle the project.
Application FAQ
Do I need to register every time I start a new application?
You only need to register once to generate your login information. Once you log in, you can create multiple applications. You can also add multiple sites to one application.
Why can't I find the configuration that I'd like to retrofit?
Energy-saving incentives are only available for simple, one-for-one replacements. For example, you can replace 500 incandescent lightbulbs with 500 screw-in LEDs; however, the program isn't designed to accommodate complex redesign projects. Eligible configurations and products are listed on the e.Catalog.
Can I make changes to my application?
After you submit an application for approval, some project details can't be changed. However, you can make changes to product quantities and project cost when you complete the declaration. If a completely different retrofit configuration is required, let us know immediately, before work begins. Any changes will recalculate your incentive.
Why did my incentive amount change?
If you made any changes to your scope of work or the inspector made changes based on their assessment, your incentive will be recalculated to reflect the changes.
Site Inspection FAQ
In order for BC Hydro to verify the electricity savings from our incentive programs, projects may be randomly selected for a site inspection before the application is approved and/or after the project is complete.
Who is 'It's On Electric'?
It's On Electric has been selected as the contractor of choice to conduct inspections. Their employees follow our core values and protocol, and can be identified by their uniform and BC Hydro contractor photo ID.
How long do I have to wait for an inspection?
If your application has been selected for a pre-site inspection, It's On Electric will contact you to arrange a visit within a couple business days.
If the application has been selected for a post-site inspection, It's On Electric will contact you to schedule an inspection after we've received and reviewed your invoice.
How do I prepare for the site inspection?
It's On Electric will inspect the site based on the details you submit, so it's important that the application is as accurate as possible at each stage. We also strongly suggest that someone familiar with the project (you, or your Alliance distributor/contractor) is available to guide the inspector through the site.
How it could benefit your business
Every business is different. The upgrade that will have the greatest impact on your savings depends on what uses the most energy in your business. Below is a breakdown of the average electricity use in a few different sectors to give you an idea of a good place to start.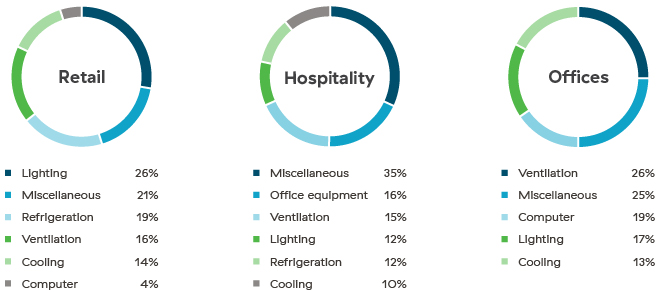 More ways to reduce your energy bill
Below are some ways you can strategically manage your energy use to make the most effective changes so you can start to see long-term savings on your electricity bill.
Take the free online Strategic Energy Management Assessment
The SEM Assessment [XLS, 260 KB] is a tool that takes you through a series of questions and your organization with a unique roadmap to implement a holistic approach to energy management.
Motivate your workplace to lower energy usage
Get your employees on board with saving energy using these free, ready-to-go workplace campaigns.
Energy control incentives
Energy controls take the think-work out of using energy only when you need it. And we offer incentives to get you started.
Know your energy use
Having a benchmark is key to improvement. Knowing your monthly energy use will allow you to identify areas you may be able to save. Log in to MyHydro regularly to track your usage and compare things like weekday vs weekend, operating vs non-operating hours, and this year vs last year. Learn more about tracking your energy use.
For more information, please contact BC Comfort at 604-439-3344 or service@bccomfort.com to get started.