---
---
Along with lighting, your HVAC system is one of the biggest energy consumers in your commercial building. However, every single one of your employees and occupants rely on the HVAC system for indoor comfort, health, and safety. So, it pays to keep your HVAC system well-maintained and operating efficiently.
To get the most out of your HVAC system, we recommend setting up regular preventative maintenance plan with BC Comfort. Each preventative maintenance service includes assessment of the internal and external components of your system and cleaning the whole system.
---
If properly maintained, an HVAC system can last between 15 – 20 years! Without proper maintenance, you will likely need to replace your HVAC unit within 5 years.
What is Preventative Building Maintenance?
---

---
---
Inspect all systems operations
Cleaning of complete system
---
Inspect all systems operations
Inspect humidity control devices
---
Inspect IAQ systems
Inspect heating/cooling units
---
Inspect exterior housing integrity
Inspect for any build-up/fouling
---
---
Why is Preventative Maintenance Important?
---
Your commercial building and your employees are your company's biggest assets, and your employees spend most of their working hours inside your building. Your HVAC system ensures that your building is space-conditioned for your employees' health, comfort, and productivity. HVAC may seem like a small percentage of the overall costs of managing a company, but all businesses – restaurants, retail stores, hospitals, hotels, and office buildings – are completely dependant on consistent heating and cooling of their facilities.
Any breakdowns of your HVAC system would mean downtime and lost profit for your business. Preventative Maintenance on your HVAC systems is said to reduce the risk of costly breakdown by as much as 95%. Keeping your HVAC system well maintain also reduces your energy bills, extends the life of your system, and keeps you protected under warranty.
---
Cost of Overall Company Management
---
Looking at 20-years of a company's operations, the cost breakdown will include building construction, building maintenance and business operations.
---
---

---
---
The initial design and construction of your building, this is a one-time cost and does not include HVAC systems.

---
---
Personnel and business operations costs includes salaries, lease/rent, inventory, consultation fees, etc.

---
Building Maintenance (HVAC)
---
The cost of the life cycle of your HVAC system including purchase, install, setup and maintenance of the system within your building.
---
Cost of Building Maintenance (HVAC)
---
The HVAC system is as crucial part of any commercial building, it ensures that all occupants in the building are healthy, comfortable and production.
---
---

---
---
Up-front installation costs for equipment acquisition and system installation, and end-of-life disposal.

---
---
On-going costs to maintain and service the health and efficiency of your HVAC equipment and systems.

---
---
On-going cost of the equipment energy consumption associated with providing space-conditioning to the building.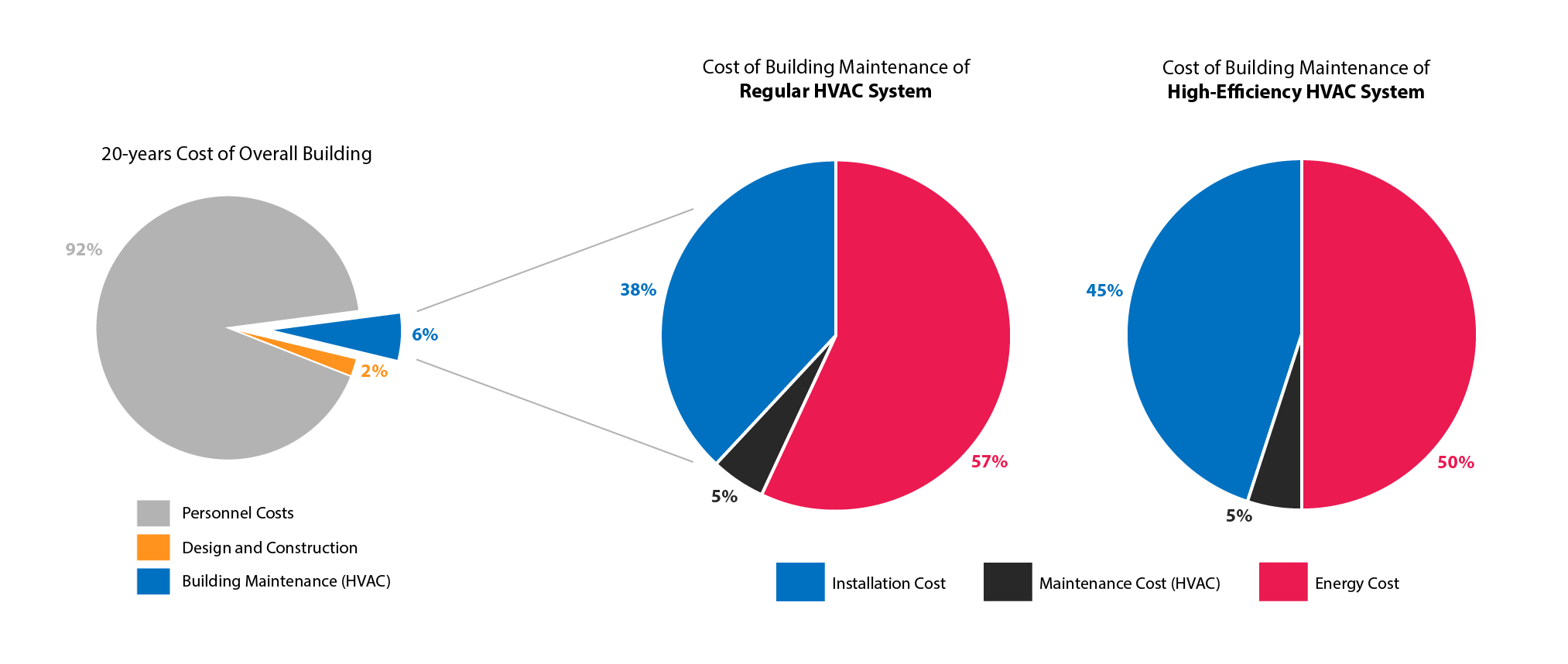 Regular vs High-Efficiency
---
A high-efficiency HVAC system may have a higher up-front installation cost; however, they pay off their higher initial cost with lower operational and maintenance expenses.
We recommend EnergyStar® certified equipment as they are 31% more efficient than the industry's minimum standard (ASHRAE) – improving comfort, building health, and reducing energy costs.
---
---
Estimating your Building Maintenance Life-Cycle Costs
---
We know that any HVAC project comes at a sizable capital cost. BC Comfort can give you a detailed break down of estimated life-cycle cost analysis to chart the initial expenses and on-going expenses of your HVAC upgrade project. You can also use the worksheet provided below for a simpler breakdown.
---
| | | |
| --- | --- | --- |
| Installation Costs: One time expense | | |
| Equipment Purchase | | |
| Installation and Labour | | |
| End-of-Life Disposal | | |
| Maintenance Costs: (~15 Year Life cycle) | | |
| Preventative Maintenance Plan | | |
| Parts | | |
| Labour | | |
| Consumable Disposable Fees | | |
| Unplanned Maintenance Contingency | | |
| Miscellaneous | | |
| Energy Costs: | | |
| Utility Bills | | |
| Miscellaneous | | |
| Total Estimated Life Cycle Costs: | | |
---
---
Contact your BC Comfort Technician today to inquire about Building Maintenance and to setup a Preventative Maintained Plan.